Natan is the 107th hero to be released in the ever-popular game Mobile Legends: Bang Bang. In the game, he is a Marksman who deals Magic Damage, like Kimmy. Best known for his durability and ability to deal a lot of damage over time, but has mobility issues. As Natan appears in the MLBB advanced server, we previously made a detailed hero analysis of him. Natan's skills, items, and gameplay tips will be covered in this guide, as well as recommendations for his emblems and spells.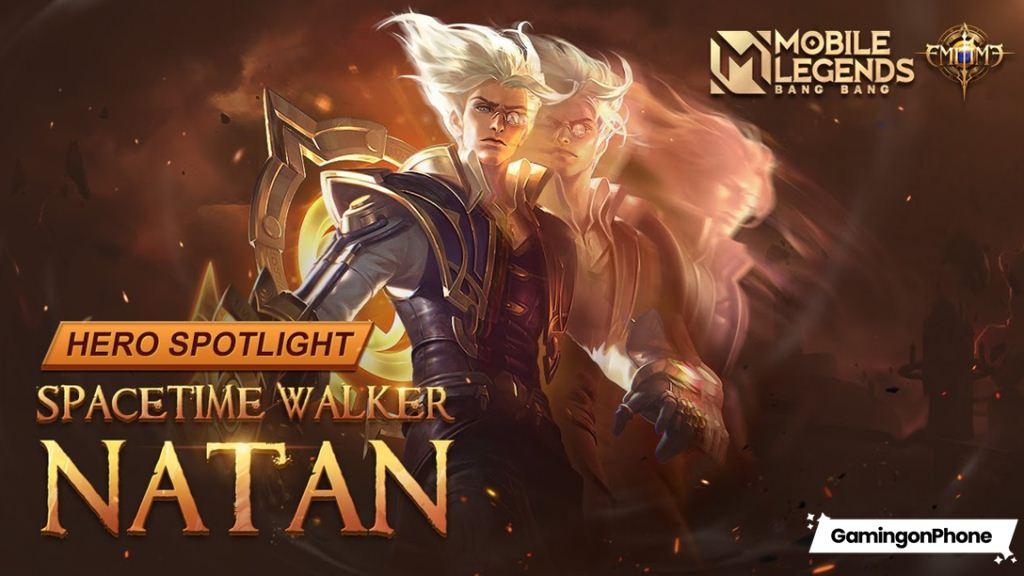 Skill Analysis
Natan has three active skills and one passive skill. His skill set revolves around dealing high poke damage and outlasting opponents in 1v1 situations, or dealing AoE damage in teamfights. Despite Nathan's low burst damage, he is very good at continuously dealing damage, most likely due to the low cooldown of Skill 1. Let's take a look at what Natan's skills do and how to get the most out of them in this Natan guide.
Passive – Theory of Everything
Natan or his Reverse-Clone gains Entanglement each time he hits an enemy with skill. For 5 seconds, each stack increases his Attack Speed by 15% and his Movement Speed by 7.5%.
After firing, Natan's Basic Attacks projectile deals (+70% Total Physical ATK) (+30% Total Magic Power) Magic Damage to enemies along its path. He can also convert 100% of Physical Lifesteal and Penetration into Magic Lifesteal and Penetration.
Skill 1 – Superposition
Natan shoots a dense mass of energy, dealing 200 / 260 / 320 / 380 / 440 / 500 (+180% Total Physical ATK) (+120% Total Magic Power) Magic Damage to enemies in its path. In addition to Natan's Basic Attack, this skill is Natan's primary source of damage. Since it can go through multiple enemies and has a good range, it is a good skill to use when finishing off enemies at a distance or clearing minion waves.
Skill 2 – Interference!
Natan launches a gravitational attractor, which carries enemies along the path and deals 150 / 180 / 210 / 240 / 270 / 300 (+50% Total Physical ATK) (+70% Total Magic Power) Magic Damage. When it reaches the end, the attractor explodes, causing nearby enemies to be knocked back and dealt 30 / 35 / 40 / 45 / 50 / 55 (+10% Physical ATK) (+14% Magic Power) Magic Damage.
With Natan's Crowd Control (CC) skill, he can knock back enemies close to him and pull them into the center like a black hole. It does decent AoE damage and should be used in combination with Skill 1 for maximum damage in the early game.
Ultimate – Entropy?
In an 8-yard radius, Natan summons a Reverse-Clone that lasts for eight seconds. The Reverse-Clone inherits 30% / 35% / 40% of Natan's attack attributes and copies all of his movements and attacks in reverse. Natan dashes for a certain distance toward the Reverse-Clone and enters a 2-second cooldown. The Reverse-Clone will disappear if it is too far away from Natan.
Natan's Ultimate skill is cool since it summons a copy of him that does a fraction of Natan's damage, essentially giving him extra damage. Natan's skills will be cast to the same spot by the clone as well, no matter how far the clone is from Natan. Natan's Passive can also be stacked by the clone, making it useful in teamfights.
How to download and install Mobile Legends Natan APK on Android?
Step-by-step tutorial to clearly explain how to install the application.
1. Download
Click on the button above to download the application. The download should begin. Wait until the download is complete before proceeding to the next step.
2. Allow unknown sources
After downloading the application, open your device's Settings and select Security or Applications (depending on your device). Select 'Unknown sources' and enable them with OK.
3. Install the application
Search for the download in your notifications, or Open Downloads Tap the Mobile Legends Natan apk file Select Install.
4. Start using it!
Remember to reset your security settings to the mode you prefer, Open the Mobile Legends Natan application.
Frequently Asked Questions (FAQ)
Below are some frequently asked questions. If you still have any questions, feel free to leave a comment contact section. We do not promise anything, but we will respond as soon as possible. We have a friendly community, moderate, supportive, reliable to help you, we hope you can solve your problems. If you can answer their questions, don't forget to help others.
Q. Is this game safe? Does it contain viruses or trojans?
Ans. It's a false positive. The method used to crack apps is similar to the method used to code malware! Anti-virus programs will detect the crack as a virus and delete it, even though it isn't! ?
Q. Is Mobile Legends Natan safe to use?
Ans. Yes, absolutely. You may have heard somewhere else that installing modded apps can harm your phone. Mobile Legends Natan Apk is 100% safe. we have verified the apk file with Virus Total technology and the apk file is 100% clean.
Q. Why is Android game Permission needed to download Mobile Legends Natan APK?
Ans. applications require access to some of your device's systems. When you install an application, you will be notified of all the permissions required to run that application.
Q. Is it a paid app?
Ans. No, this amazing game is available just for free without any cost so that you may enjoy this game without any worries.
Q. Why is my Mobile Legends Natan not installed?
Ans. You might have installed an older version of Mobile Legends Natan. So please install the latest apk file from this website.
Q. Is it safe to install Mod APK?
Ans. Of course, it's not a safe way to install a modded APK file. It's up to the user's need to use the file. But while installing the modded file, check for its package name, version, developer (use es file explorer) and permissions it asks and checks those in play store.
What are the profits and consequences of downloading Mobile Legends Natan Apk directly?
Pros:
You'll transfer any version of the Mobile Legends Natan Apk directly from the third-party website. You'll have the game archives of most versions and you'll transfer them in step with your desires.
Not like Play Store, downloading is instant, you ought not to watch for the review method, etc.
When downloading, there's an APK file on your memory card/system memory. Thus you'll uninstall and put in them repeatedly while not downloading.
Cons:
Downloading apps from third-party sources don't seem to be sometimes checked by Google. Thus it is harmful to your phone.
APK files might contain viruses that steal information from your phone or harm your phone.
Your apps will not mechanically update as a result of they do not sometimes have access to the Google Play Store.
Conclusion
Today I will provide you Mobile Legends Natan apk latest version. Mobile Legends Natan APK is a game that is very popular with people because there are so many benefits that can be used. Mobile Legends Natan Apk is the best game in the Free Action category. It is a safe game for Android devices.